Neurofeedback at Home
Training with a neurofeedback home system can save clients up to 60% in cost, with the convenience of training when it fits clients' schedules. It is also a cost-effective way to train a family. Check out our two different neurofeedback home system plans below.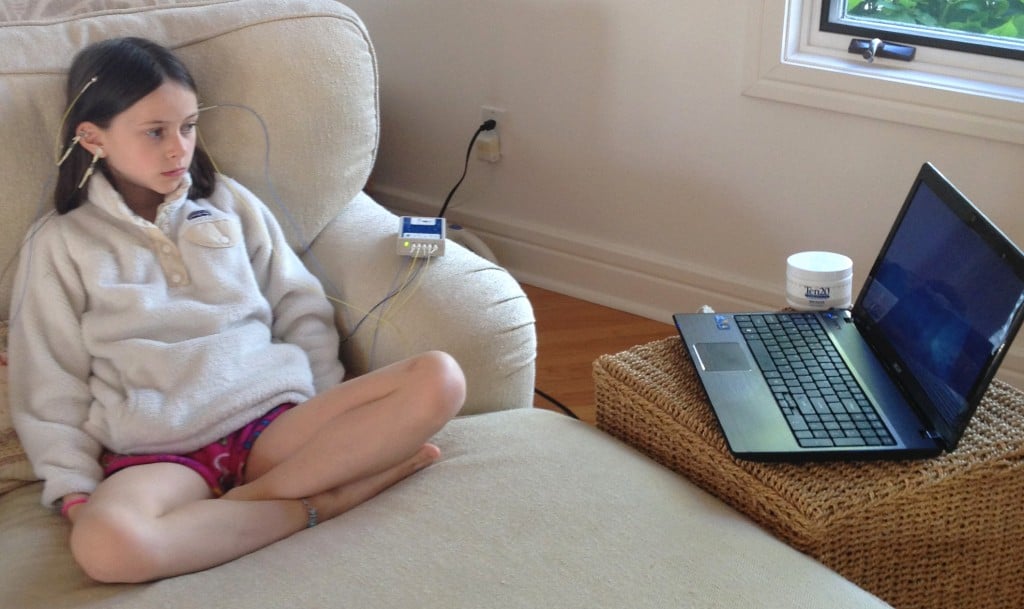 Same System
The home system is the same technology as the professional neurofeedback system used in the office.
Clients quickly learn how to hook up themselves or loved ones, either through an in-person tutorial, or through video (see below) and skype lessons.
Easy to Use
You might listen to music or watch a movie during which you may notice very brief pauses in the sound or image.
The very precise timing of these interruptions gives the brain vital information it needs to reorganize itself to operate more optimally. You don't have to do anything while all this is happening.
Non-invasive and Safe Method
NeurOptimal® Neurofeedback is a 100% non-invasive, safe method for restoring serenity, confidence and wellness back into your life. There are many positive outcomes when neurofeedback training was utilized with clients coping with ADD, ADHD, PTSD disorder, Alzheimers disease, autism, sleep disorders, insomnia and cognitive dysfunction from chemo-therapy.
Neurofeedback Rental in Denver, CO and Los Angeles, CA
Our neurofeedback home rental systems is managed from our office in Denver and Los Angeles. See our website dedicated only for home rental system at NeurofeedbackRental.com. If interested in renting fill out this form on our website neurofeedbackrental.com. We ship throughout US and Canada.
DENVER: Our neurofeedback rental office in Denver is located at 2105 E Virgina Ave. Denver, CO 80209.   If you are interested in renting neurofeedback equipment to use at home, contact Kate at our Denver office at kate@neurofeedbackny.com
LOS ANGELES:  If you are in the Los Angeles area and are interested in renting a neurofeedback machine fill out this form here
Neurofeedback Home System Plans
There are two NeurOptimal systems available for rent for use at home – The Personal Neurofeedback Trainer and the Family Neurofeedback Trainer
Based on our experience and for best results, we encourage people to use the  Neurofeedback Home System at least twice a week for 3 months at a time. 
Rent a Family Neurofeedback Trainer for unlimited training sessions per month. 
This is ideal for families who are training multiple people.  
$800 per month includes unlimited sessions, all materials required to train, access to online support forum moderated by expert trainers, access to regular check-ins with staff trainer via text, email, phone or Skype. Email Kate at kate@neurofeedbackny.com to get started.
Rent a Personal Neurofeedback Trainer.
The Personal Trainer is available with the following pricing schedule and includes all materials required to train, access to online support forum moderated by expert trainers, access to regular check-ins with staff trainer via text, email, phone or Skype:
1st month

 = $700 (includes 10 sessions; additional sessions are $25 each)

2nd month

 = $600 (includes 10 sessions; additional sessions are $25 each)

3rd month

 = $500 (includes 10 sessions; additional sessions are $25 each)
Both rental systems use the same technology as the professional system used in our offices.  Clients quickly learn how to hook up themselves or loved ones, either through an in-person tutorial, or through video (see below) and skype lessons. Email Kate at kate@neurofeedbackny.com to get started.
We can ship our rental systems anywhere in the US or Canada, but if you're in the Denver/Boulder area, you can pick up your machine in Denver at our Wash Park West location.  Likewise, if you're in New York, you can pick your machine up from our Manhattan offices.
How do I start renting the Neurofeedback Home System?
Step-by-step renting guide:
Email Kate at kate@neurofeedbackny.com, letting us know you would like to rent the Neuroptimal Personal Trainer/Home Rental System.
Wait to hear back from Kate and find out when the next machine will be available.
Kate will contact you to either ship you the Home Rental System or you can pick it up from one of our offices.
Fill out the contract Kate has emailed you. We keep your credit card number on file and charge the first of the month for the next month's rental.
Receive the Neurofeedback System and all accompanying equipment, instructions and forms.
Train your brain! There is a short video to watch on how to hook up. See below. Kate is also available if you have any questions.
Kate will be checking in with you periodically to see how your training is going and to answer questions.
At the end of your training period contact Kate if you would like to extend your rental and when you are ready to return it.
See also our neurofeedback at home website – neurofeedbackrental.com
Testimonials
"We all just got home and Jonathan went upstairs to play legos as I'm with William out front with bikes. So it just dawned on me that I haven't thanked YOU for all your wisdom and guidance in turning my son into the calmer, happier boy I knew he could be.. .and by turn all of us too! Thank you thank you  Natalie."

– Emily (Family rented home system to train kids for 3 months)

"I've been busy with work so have only been training once a week [on the home neurofeedback system] then I upped it to three times a week and saw how much calmer I was with more sessions."

– Neurofeedback NY client (Rented Neurofeedback Home System for a month)
How to use the Neurofeedback Home System
NeurOptimal® Home System is incredibly simple to operate. All you do is hook up and press "Go". NeurOptimal® provides the information the brain needs moment by moment while the difficulty level automatically adjusts itself (we call this "auto-nav") based on the brain's behavior each micro-second. There is no guesswork, so no need to worry about making mistakes. You can trust NeurOptimal® to do the work.
Samantha Diavatis of Zengar Institute demonstrates how to hook yourself up for a NeurOptimal® Session.

Read also
NeurOptimal is an Information-Based Technology
The most over-arching feature of NeurOptimal is that it has been designed from the ground up to work with the brain as a non-linear dynamical system (we call this "dynamical neurofeedback"). As the brain itself is a non-linear system, interacting with it in a non-linear dynamical way is a perfect match— like talking to the brain in its own language. NeurOptimal® more elegantly and "simply" offers the brain the information it needs to organize and re-organize itself. Presented with the right information, the brain can become more flexible and resilient, which results in a better quality of life after neurofeedback training.
The Elegance of working with Instabilities
NeurOptimal® works with brain instabilities, not amplitudes or any other linear measures used by olderstyle neurofeedback systems. As the brain starts to move into an instability in a particular frequency range (we call these "targets"), the sound pauses very briefly and the image changes. The brain immediately brings itself "back to the present" (this is not a conscious process and you don't to "try" to do it – you can just sit and relax and close your eyes if you want and your brain responds). Over time, the brain learns to maneuver around instabilities — instead of just falling into them — resulting in increased flexibility and resilience. Because we work with instabilities and how the brain responds to those instabilities, muscle movement and other sources of "artifact" are far less of an issue than when running older-style systems, making effective training much easier.
Permissive Non-Directive Healing Stance
NeurOptimal® doesn't "push" the brain by telling it what it needs to do. NeurOptimal® provides information to the client's brain about its own activity— that is all. The brain then does its own reorganizing. While it is true you can sometimes get dramatic effects by pushing the brain in a particular way as other systems do, it is also very possible that you can push the brain into a de-stabilized state, resulting in unpleasant side effects. NeurOptimal® is designed differently. Simply giving the brain information rather than telling it what to do results in powerful shifts in a positive direction for the client, gently and easily.
Effortless Engagement
When doing neurofeedback training you don't have to do anything, you  don't have to make any kind of conscious effort at all. You just listen to music, watch a movie, or "zone out" with eyes closed. It doesn't matter.
NeurOptimal® works with "where you are" moment by moment. If you feel fatigued, NeurOptimal® adapts and works with you where you are at that time.
NEUROPTIMAL® vs. Other Systems
Focus is on optimizing brain functioning by improving the central nervous system's flexibility, resilience and stability. This is not treatment. It's training your central nervous system to work more efficiently and effectively. Problems and issues then naturally melt away. Other systems: Focus is on treatment.
No diagnosis is required. All users are trained in the same manner. The objective is to improve the mind and the central nervous system's flexibility and resilience. This isn't treatment. It's training your central nervous system to work more optimally. Other systems: Require practitioner to diagnose a problem so that a treatment plan can be mapped out.
NeurOptimal® automatically adjusts with each person. No monitoring required. Other systems: Client needs to be monitored closely within and across sessions. Practitioner changes what they do based on unwanted side effects in client.
Trains outside the awareness of the conscious mind, which is way too slow for NeurOptimal®. Client just relaxes. Does not have to "achieve" anything. Other systems: Seeks to train the conscious mind to control brainwave activity. Requires conscious effort from the client to meet externally imposed goals.
Simultaneously targets sixteen sets of frequencies in the same manner for all users. Multiple frequencies balance off other multiple frequencies. Cannot overtrain. Everybody gets Peak Performance as well as help with their issues. Other systems: Uses limited frequencies at the discretion of the trainer. Overtraining (and side effects) common. Working on a disorder and achieving Peak Performance are very different goals and tasks.
NeurOptimal® provides moment to moment feedback on the brain's activity. The brain makes adjustments using real time feedback across a wide spectrum of frequencies meant to increase overall mental fitness. There is no separate assessment needed. Other systems: Weekly or monthly feedback from the patient is used to evaluate and control the training regimen. This is time consuming and costly, often doubling session time at no additional benefit.
NeurOptimal® does not push the brain- it simply offers information. The brain does the rest, naturally. Other systems: Pushes the brain to do more or less of something as decided by the practitioner.